The day after a mass shooting at a July Fourth parade in a Chicago suburb, the Dallas Cowboys were panned on Twitter over a promotion that included a year's worth of products from a gun-themed coffee company.
The Cowboys on Tuesday tweeted the promotion that included tickets to one of the team's home games as well as a year's subscription to Black Rifle Coffee. The reaction to the giveaway reflects the cultural divide over firearms that's grown more intense following a wave of mass shootings.
"#CowboysNation, please welcome America's Coffee to America's Team," the Dallas Cowboys said in the tweet, which announced it was "celebrating America's birthday all week long" with the promotions.
A gunman on Monday killed seven people and injured more than 30 others after opening fire on a Fourth of July parade in Highland Park, Illinois. The shooting came a month after the Uvalde school massacre, which left 19 students and two teachers dead. There have been over 300 mass shootings in the U.S. this year, according to Gun Violence Archive, an independent research nonprofit.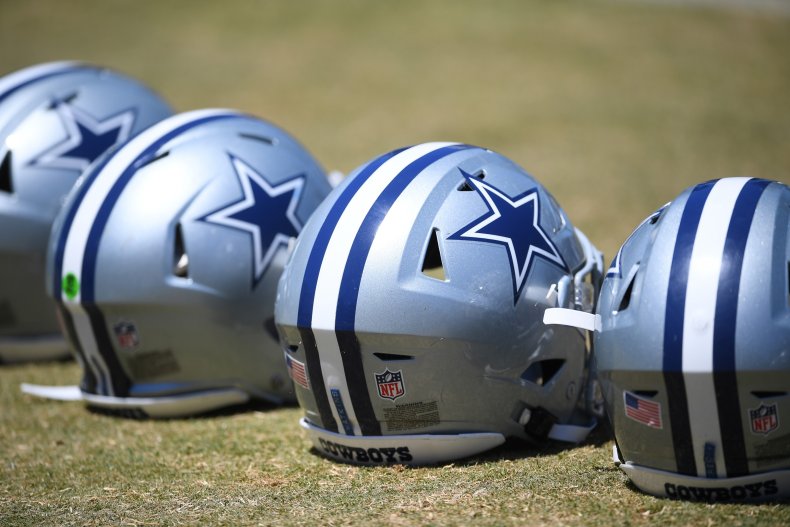 Black Rifle Coffee Company describes itself as a "veteran-founded coffee company serving premium coffee to people who love America." Founded in 2014 by Green Beret Evan Hafer, the Salt Lake City-based company says it seeks to support "veterans, active-duty military, first responders and the American way of life."
While some Twitter users reacted with enthusiasm to the promotion, others blasted it as tone-deaf and divisive.
"Do they have White Massacre flavor?" Twitter user Arlington Cowboys said in a tweet reacting to the promotion.
"Mass Shooting Morning Blend," Twitter user @eatenbyfireants said in a tweet.
"It tastes awful but we all accept it, eventually," added Twitter user @DLGFTW.
Twitter user @kabirakhtar responded with a photo of products from Black Rifle Coffee, such as "Coffee or Die Roast," "Silencer Smooth Roast," "AK-47 Espresso Blend" and "Freedom Roast Coffee."
"(Just) 18 hours after multiple mass shootings on Independence Day, and just weeks after a bunch of kids were shot to death at a school in your state, you're partnering with this?" @kabirakhtar said a tweet.
"Wasn't this the official coffee of January 6th as well?" Twitter user @Dhagg42 said in a tweet.
"Cool! I'll take the Head Shot dark roast, the Exploding Skull medium roast, and the Terrified Crowd Running For Their Lives light roast (such a delicate flavor on that one). I love rooting for my Cowboys!" Twitter user @elliotsemi said in a tweet.
Black Rifle Coffee Company was profiled by The New York Times last year as an "anti-hipster" coffee business that embraced culture wars as it vied to "become the Starbucks of the right."
The company has previously partnered with other businesses, including Bass Pro Shops, as well as professional football team Washington Commanders to prepare care packages for military service members deployed overseas. More recently, Black Rifle Coffee Company partnered with Amazon's Prime Video to feature its products in the series The Terminal List.
Black Rifle told Newsweek in a statement that the announcement of the partnership between "America's Team" and "America's Coffee" had long been planned to coincide with "America's Birthday."
"BRCC is proud to partner with the Dallas Cowboys who are strongly committed to our mission of supporting Veterans, first responders, and America's men and women in uniform," the company said.
As the backlash against the Cowboys unfolded online, Hafer, the company's CEO, also weighed in on Twitter.
"Heck ya! I love this partnership," he said in a tweet.
Newsweek has reached out to the Dallas Cowboys and Black Rifle Coffee Company for comment.