One of the largest drug busts in Monterey County, California history was pulled off when nearly $2 million worth of illegal drugs were seized by Salinas police and federal agents, as reported by KSBW Action News.
According to a post published to the Salinas Police Department Facebook page on September 16, the department's investigations unit worked with the Monterey County District Attorney's Office, Salinas Violence Suppression Task Force and the Homeland Security Investigations Monterey Office. Together, they worked on the five-month investigation they named Operation Black Hawk into NorCal Transportation. The trucking company allegedly operated a drug trafficking organization. The post stated that there was specific intent to distribute the drugs between Yuma, Arizona and Salinas, California.
"During the investigations it was determined that NorCal Transportation was directly connected to the Sinaloa Cartel and transporting narcotics in conjunction with Norteno gang leaders," the post continued.
Five search warrants were executed on September 9, and four individuals were arrested in Salinas, and another four were arrested in Yuma County, Arizona in connection with the ongoing investigation.
Monterey County Weekly reported that officials seized 60 pounds of methamphetamine, five pounds of heroin, 1.5 pounds of cocaine, 25,000 fentanyl pills and nine firearms. The report also noted that officers seized $90,000 in cash and cashier's checks, two bank accounts and one tractor-trailer belonging to NorCal Transportation. The Facebook post noted that police believe the items seized were proceeds from the sale of the narcotics.
More than 170 law enforcement personnel aided in the search warrants and helped in the apprehension of the suspects.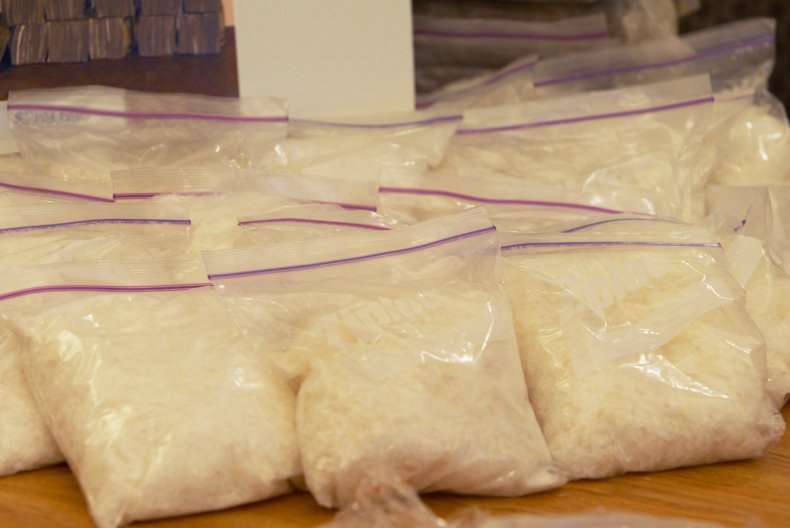 "The biggest thanks is going to have to go to my detectives for their hard work," said Acting Salinas Police Chief Roberto Filice. "Our fight is to keep our community safe, so I will take a moment to thank our community for your support."
The eight face charges that include conspiracy to transport and distribute narcotics, firearms possession, gang enhancement and conspiracy to commit murder.
Newsweek previously reported that according to the National Institute on Drug Abuse, fentanyl is a synthetic opioid that is 50 to 100 times more potent than morphine. Though it is typically used to treat severe pain, it is also used recreationally. The article reported that synthetic opioids are the most common substances involved in drug overdose deaths in the United States.
Newsweek has reached out to the Salinas Police Department and the Monterey County District Attorney's Office but did not hear back by press time.