The Saskatchewan Firearms Office will be "reviewing all options" to oppose the bill, according to a statement issued Tuesday.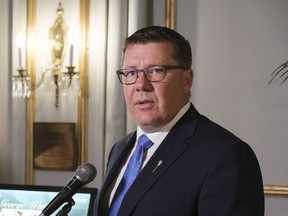 North Pro Sports in Saskatoon was abuzz on Tuesday, the day after the federal government proposed a bill which, among other things, would halt imports and sales of new handguns.
Owner Kevin Kopp said there has been an "uptick" in sales in his store, which usually happens after the government makes similar moves with gun legislation.
He said customers were interested in handguns, but the newly tabled bill also had them interested in long guns, although the proposed freeze would not apply to those.
"If you were thinking about buying in the last few months, this has sped up … your decision-making process. They are buying now, today. Not tomorrow," Kopp said.
Bill C-21, introduced by the federal government on Monday, received its first reading in the House of Commons. It would not ban all handguns, but would stop imports and freeze buying, selling and transferring handguns in Canada.
Premier Scott Moe, speaking with reporters in Regina, called the changes "problematic," saying they appear to go after law-abiding gun owners.
"This is nothing more than really virtue signalling by the federal government that we see time and time and time again, regardless of the topic," Moe said.
The Saskatchewan government will be interested in the increases to fines and penalties for people who steal a firearm, or use on in property crime, he said.
He added that it's a distraction from another federal bill to remove mandatory minimum sentences. Bill C-22, if passed, would repeal mandatory minimums for 14 offences, which relate to drugs and some firearm charges.
An emailed statement attributed to Robert Freberg, the province's chief firearms officer, said Saskatchewan continues to oppose federal gun control measures. It said the changes "unfairly target" law-abiding gun owners, and will do little to affect firearm-related crime in Saskatchewan.
"If the federal government thought handguns were causing violent crime in Canada, they would have just outright banned them instead of 'freezing' them," the statement said.
The Saskatchewan Firearms Office will be "reviewing all options" to oppose the bill and Freberg will review it to "best mitigate the damage it may cause to lawful firearms owners," the statement added.
If passed, the legislation would also prevent anyone subject to a protection order from having a firearms licence, and revoke licences for perpetrators of domestic violence or stalking.
The proposed gun law changes also seek to create a "red flag" law that would allow courts to grant emergency prohibition or limitation to access orders, requiring people who are deemed a danger to themselves or others to surrender their firearms, while protecting the person applying for the orders and their identity.
Regina police Chief Evan Bray said police have been asking for the "red flag" law.
"If there's people that we know are potentially a higher risk to offend using a firearm, and we can potentially intervene and prevent that from happening, that's a real positive thing," said Bray, who is also co-chair of a special purpose firearms committee organized by the Canadian Association of Chiefs of Police.
It's certain people, and not "firearms themselves," that commit crimes, and the majority of Canadians who own firearms do so legally and obey rules, he added.
Saskatoon city police studied firearms trends and found the majority of "crime guns" — 210 of the 392 firearms associated with crime — seized in 2021 were handguns. It found the majority of cases where a firearm was discharged involved a handgun.
Statistics Canada data on homicides in Canada show that while handguns were the most used firearm in homicides in 2020 (49 per cent), in Saskatchewan a rifle or shotgun was more often used in homicides involving firearms (83 per cent).
Kopp said he feels the proposed gun law changes shame gun ownership, and while not criminalizing legal gun owners, makes them feel like outsiders.
"It puts a black cloud over basic legal gun ownership in Canada."
— With Leader-Post files from Brandon Harder and Jennifer Ackerman
Want to know how we decide what to cover and how editorial decisions are made at the Saskatoon StarPhoenix and Regina Leader-Post? Get the weekly Letter From the Editor newsletter from the Editor in Chief Russell Wangersky and join the discussion on what goes into covering news and delivering commentary, both in print and online. Click here to subscribe.
We deliver the local news you need in these turbulent times on weekdays at 3 p.m.
By clicking on the sign up button you consent to receive the above newsletter from Postmedia Network Inc. You may unsubscribe any time by clicking on the unsubscribe link at the bottom of our emails. Postmedia Network Inc. | 365 Bloor Street East, Toronto, Ontario, M4W 3L4 | 416-383-2300