Publishing date:
May 08, 2022  •  12 hours ago  •  1 minute read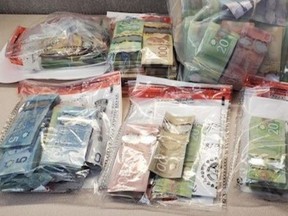 Six people have been charged and Ottawa police are looking for a seventh after a series of raids early Friday that netted a large quantity of drugs as well as replica firearms and $175,000 in cash.
The "Project Road Runner" raids targeted six residences on McWatters Road, Woodbridge Crescent, Foxridge Way, Banner Drive and Barnstone Drive.
Police seized 1.5 kilograms of cocaine, 30 grams of fentanyl, 7,000 methamphetamine pills, three kilograms of magic mushrooms, 201 kilograms of cannabis, along with kilograms more of cannabis resin, concentrate and edibles.
In addition to the cash, police seized a "luxury vehicle", a bulletproof vest, various pieces of drug paraphernalia and several replica firearms.
Six people ranging in age from 25 to 34 were charged with numerous drug possession and trafficking offences and were released on a promise to appear in court again on June 12. The seventh, a 30-year-old man, is wanted on multiple charges including trafficking and contributing to a criminal organization.
Ottawa Citizen Headline News
Sign up to receive daily headline news from Ottawa Citizen, a division of Postmedia Network Inc.
By clicking on the sign up button you consent to receive the above newsletter from Postmedia Network Inc. You may unsubscribe any time by clicking on the unsubscribe link at the bottom of our emails. Postmedia Network Inc. | 365 Bloor Street East, Toronto, Ontario, M4W 3L4 | 416-383-2300